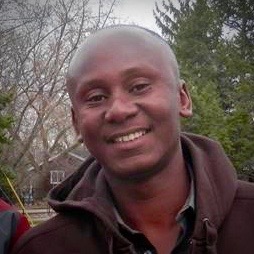 from Youthaiti Director, Pierre "Junior" Oreus
"Our first meeting did not happen due to the rains, but the second worked well because 35 villagers (mostly women) attended. An influential community leader, a voodoo priest, in the village of Bas Lacombe, one of the two locations we've targeted, arranged the meeting.
The Youthaiti staff and I used our Haitian history to introduce CLTS* — how our ancestors freed themselves from slavery, took their independence, and determined the ways they wanted to live. I could see from the change on the faces of the attendees, they understood our metaphor.
We began the first step of CLTS looking as if we were naive, asking the participants to tell us about their own personal sanitation habits. None of them knew the term, sanitation, but realized that each has some practice, good or bad, about where to dispose of body waste. All of their answers were identical: they defecate in the open, whether it's behind a tree or a rock. When we asked if that was a good or bad practice, the answers included, "It's bad. It can pollute the environment, our food." "It can cause disease." And, "It's shameful to be defecating in the open.
Haitian communities are not unfamiliar with the effects of bad sanitation practices. During the height of the cholera outbreak some years ago, there was much work done in villages to educate the local peasants. Bas Lacombe was one of the villages in which cholera resulted in some local deaths. But no action, either collectively or individually, was taken in response.
The second step of the CLTS is to trigger a behavior change, and so during our next meeting we will take the participants on a mach pou lawont(Creole for "Walk of Shame"). Villagers will be able to literally, "face their own shit," by looking at their daily actions from the viewpoint of others – guests to the village, family members who visit. It is that group walk that provides the collective awareness. It carries an impact that attendees share with their neighbors. It gives them the impetus to invite other neighbors to involve themselves in this process. The community walk encourages them to act together and make change.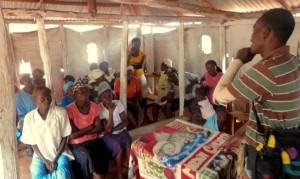 Haitians are strong and independent, but we have also been taught to depend on the many outsiders who have entered our country, either as controlling governments or even as well-meaning NGOs. Most of the villagers believe that Youthaiti has the money to build the toilets for them and our staff addressed this misconception frankly and openly. We reminded them that the strongest results of CLTS are from actions that communities take on themselves without outside help. We pointed out that already they have other community initiatives in place — they are building a road with no outside aid.
With our first meeting completed, Bas Lacombe must organize itself and decide together to ban open defecation. I hope its leaders will call in a few days to meet again. Once they have, Youthaiti can help them choose the right option (Arborloos, bucket toilets, etc.) based on their financial capacity and their tastes to help their community improve its sanitation practices.
I know change is not easy. I believe Youthaiti has helped it begin."
*    At the heart of CLTS lies the recognition that merely providing toilets does not guarantee their use, nor result in improved sanitation and hygiene. Earlier approaches to sanitation prescribed high initial standards and offered subsidies as an incentive. But this often led to uneven adoption, problems with long-term sustainability and only partial use. It also created a culture of dependence on subsidies. Open defecation and the cycle of fecal–oral contamination continued to spread disease.
In contrast, CLTS focuses on the behavioural change needed to ensure real and sustainable improvements – investing in community mobilisation instead of hardware, and shifting the focus from toilet construction for individual households to the creation of open defecation-free villages. By raising awareness that as long as even a minority continues to defecate in the open everyone is at risk of disease, CLTS triggers the community's desire for collective change, propels people into action and encourages innovation, mutual support and appropriate local solutions, thus leading to greater ownership and sustainability.
(from the CLTS website) http://www.communityledtotalsanitation.org/page/clts-approach