Youthaiti is dedicated to helping and encouraging Haitian young people in their development of ecological projects in sanitation and water source protection, community gardening,  and reforestation in their own communities.
Gigi Pomerantz, Nurse Practitioner from Milwaukee, WI, visited Haiti for the first time in February 2006 on a medical mission.  She saw starving children, bellies swollen with intestinal parasites. She saw gardens struggling to produce vegetables from the soils depleted by erosion.
Gigi met with the health leaders of the village of Duchity and learned of the need for sanitation, as many people in the village had none.  She also learned about methods of ecological sanitation used in Africa and Asia.
In the fall of 2006, she began discussions with local youth in the village of Duchity,  who formed a youth group called OJPDH (Organization des Jeunes Progressistes pour Development d'Haiti).  How could they work together?
In May 2007 they began projects building composting toilets and a community garden. By partnering U.S. resources with Haitian enthusiasm we could make a difference one toilet and one garden at a time!
In March 2008 YOUTHAITI was launched to support and promote this ongoing work – protecting the environment, replenishing the soil, growing gardens, and planting trees.
Working together with youth in the communities of Haiti, we envision a day when everyone has a safe place to 'go', and can provide enough food for their family and community.
Hurricane Matthew hits Haiti Hard!
Hurricane Matthew hit the Southwest part of Haiti on October 3,2016.  The Department of Grande'Anse, where Youthaiti's Center for Sustainable Development is located in the village of Duchity, was especially hard hit, with 80-90% of homes damaged or destroyed and 100% of agriculture wiped out shortly before harvest.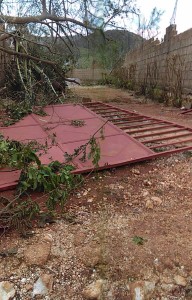 Fortunately, our building survived and was able to provide emergency shelter to 60 people, including one baby born in the midst of the hurricane.  Now the hard part of surviving and rebuilding begins.
---
A Sincere Thank You
Thanks to our generous donors, we were able to mobilize resources quickly and provide emergency water , water treatment, soap, food and medical care to 15 emergency shelters where people have sought refuge since their homes were destroyed.
Thanks also to a donation of 2,300 gallon water chlorination tanks from Rotary of England and Wales, we will be able to provide clean drinking water to hundreds of people on an ongoing basis.
---
Continuing Efforts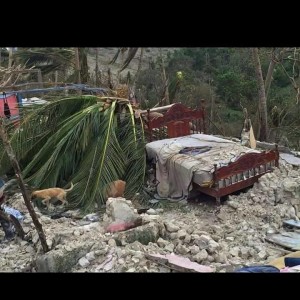 We are partnering with other local organizations to distribute food and building materials. As people find their 'new normal', we continue to help them find clean water, safe, secure sanitation facilities and begin to replant their gardens so that in a few months they will have food to eat.
As the needs will be ongoing, we continue to accept donations for our Hurricane Relief Fund as well as general operating funds to continue our work in sustainable sanitation and agriculture.
---
Youthaiti's Commitment
Youthaiti is committed to putting our resources to work in this isolated area to help provide access to food and clean water, address hygiene and help people rebuild.  We will try to update this site with new information as it becomes available.  For now, we ask for your support so that we can help people on the ground.
Please DONATE NOW to support Youthaiti's Hurricane response.
YOUTHAITI in ACTION
Youthaiti teaching the women of AFAD Association Femmes pour le Avancement de Duchity how to make charcoal from garden waste in an effort to stop the ongoing environmental destruction of Haiti's devastated forest. Workshop took place at Youthaiti Center for Sustainable Development in Haiti January 2014-Video by Denny Rauen
---
Helping the Youth of Haiti Build a Sustainable Future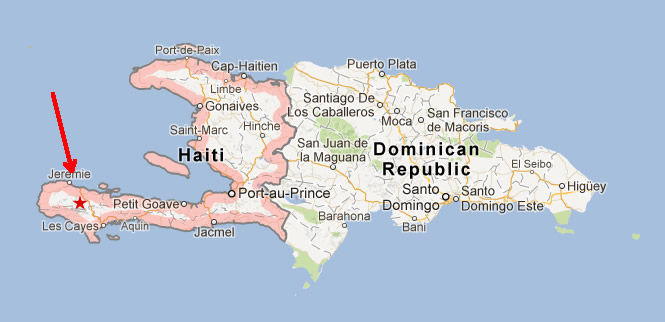 Youthaiti is a 501 (c) (3) non-profit organization helping the rural people of Haiti develop sanitation, sustainable agriculture and hygiene.
Our work is centered in the village of Duchity, in the southwestern Haitian province of Grand'Anse – home to the last remaining indigenous forest land in the country. Duchity benefits from none of the other aid programs in the nation, most of which are based in Port Au Prince and other cities and population centers.
Founded in 2008, Youthaiti focuses on projects of ecological sanitation, including:
Helping people build three styles of composting toilets.
Developing organic gardens using recycled waste as fertilizer.
Community hygiene education.
Re-forestation.
Everything is aimed at breaking the cycle of contamination and disease that makes so many Haitian children sick, and using human waste instead as part of a well-tailored agricultural program that increases crop productivity and the availability of healthy food.
Learn more about the work we're doing. And help us help the youth of Haiti build a better future!
---
Even Before the Walls Went Up….
Our new headquarters building is now finished! But even before it was there we were already drawing a crowd! These young musicians-to-be stopped by on a sunny afternoon to practice – notice they only have three horns between them, and most are patiently waiting their turn.
---